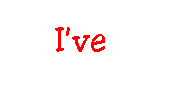 DOCTORS FIND NEW DISEASE!

Doctors have discovered a new disease that is very contagious to adults.

They have named it Genealogy Pox.

SYMPTOMS: Patient continually complains of a need for names, dates,
and places. Patient has a blank expression on his/her face, and often
seems deaf to mate and children. Has no taste for work of any kind,
except for feverishly looking through records, libraries, and
courthouses. Has a compulsion to write letters and spends hours sitting
at a computer. Swears at mailman when he/she doesn't leave mail or
threatens to kick computer if there is no e-mail. Frequents strange
places such as cemeteries, ruins and remote desolate country areas.
Makes secret night calls and hides the phone bills from mate. Patient
mumbles to self and has a strange faraway look in his/her eyes. Has a
strange compulsion to gather and scatter old papers all over the house,
leaving piles of paper everywhere with strange numbers and names all
over them.

TREATMENT: No known cure. Medication is useless. Disease is not
fatal, but gets progressively worse. Disease is spreading throughout
the country very fast, quickly becoming an epidemic. Patient should
attend genealogy meetings, workshops, subscribe to genealogical
magazines, and be given lots more forms and a computer situated in a
quiet corner of the house where he/she can be alone. If family supports
patient through this, patient will occasionally come out of strange
trance and will act normal again unless you drive by a cemetery or
courthouse.

REMARKS: The unusual nature of this disease is such that the more sick
the patient becomes, the more he/she seems to enjoy it, sometimes
dancing with glee and yelling, "I found it!"

Does this sound familiar? Could YOU have this disease? I'm afraid I
do.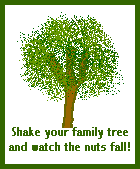 *The genealogy bug graphic is not one of mine. I believe I picked it up at Genealogy's Most Wanted.*